Today we're excited to announce the launch of the first secondary market for bandwidth on the blockchain. Anyone who buys an eSIM from GIANT can list their unused data for sale and keep the $GIANT rewards! Buyers can now access even cheaper mobile data, and sellers can earn money by selling their unused data.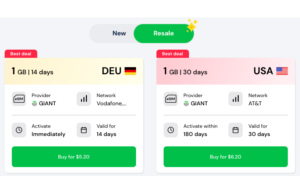 Here's how it works. Go to the GIANT app and connect your wallet. Purchase a new data plan from the Shop. Under My Data Plans on My Page, click the Sell button on the data plan you want to sell. Follow the on-screen instructions. And you're done! Your data plan will be automatically listed under the Resale tab of the Shop. If it sells you will earn Credits to be spent on data. Regardless of whether it sells, the $GIANT rewards will be deposited in your wallet after the plan expires. For more information, read the user guide here.

For shoppers, GIANT's secondary market provides a new world of choice and value. All data data plans listed for resale are at least 20% cheaper than new plans. Also, because sellers can sell partially used plans, shoppers aren't locked into predefined data quantities. Only need 200MB of data to get you through your last day of vacation? Check out the data plans listed for resale!
The ability to resale unused data is an important step towards sovereign ownership of bandwidth and will unlock tremendous value for the community. Head over to the Shop, give it a try, and let us know what you think!