GIANT Protocol Testnet and dApp goes live today!
Today we're excited to release our public testnet and dapp. Our vision is that connectivity should be a shared global resource, and we should all be owners in a new connectivity economy where bandwidth becomes a digital asset.
In this release anyone can experience what it means to connect to earn. Purchase global mobile data in the form of Data Contract Tokens (DCTs) to earn 40% back in GIANT tokens. Stake GIANT tokens in provider pools to receive real yield equal to 5% of data sales.
To get started, visit My Page, connect your Polkadot.js wallet, enter your email address to retrieve tokens from the faucet, and then go spend them at the Shop or stake them on the Earn page.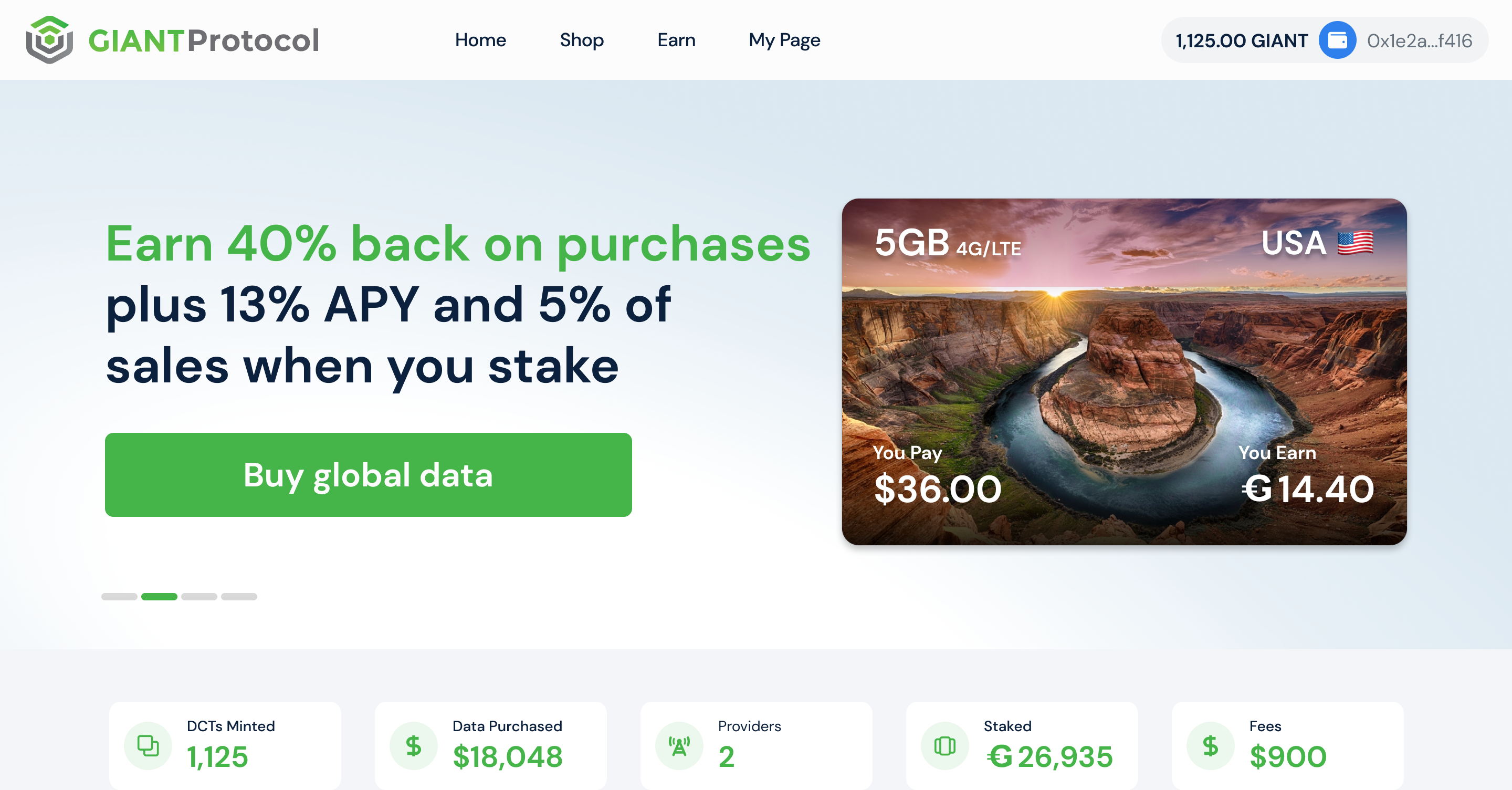 For a more detailed walkthrough of what you can do with the testnet dapp you can read our new, handy docs. In addition to the testnet walkthrough guides you'll find a link to the whitepaper where you can better understand our tokenomics, and you'll find a link to our tokenomics simulator where you can model different scenarios to simulate your earnings.
This release introduces support for multiple provider pools where any data provider can secure liquidity against their bandwidth capacity, and anyone can provide liquidity to earn real yield as a percent of data sales. This release also introduces automatic expiry of DCTs, so your rewards are paid into your account automatically after your data plan expires.
Under the hood the blockchain is running on four nodes using Substrate's PoA consensus called Aura and has now introduced sGIANT (staked GIANT) tokens. These two technical advancements lay the foundation for the chain's transition to nPoS consensus which will introduce a 13% APY on sGANt tokens, bringing effective yield for stakers to a combined 5% of sales plus 13% APY.
Join us on Discord and Telegram for the latest announcements and tips to maximize your earnings. In the meantime head over to My Page and get yourself some GIANT tokens from the faucet!
NOTE THE TESTNET DOES NOT USE REAL DATA OR OPENLY TRADABLE TOKENS. TESTNET IS FOR TESTING ONLY. ALL TOKENS EARNED MAY BE LOST AT ANY TIME.